About Us
We are here to provide you with the best puppy for your family!
In our program, we have AKC and CKC registered Danes. We breed first and foremost for temperament. Personality is the most important quality in a puppy. A puppy from aggressive or anti-social parents can be devestating to a family. We also breed for health and confirmation. While some of our puppies go on to join show homes, most of them spend their lives as loving companions and fur babies. All are equally loved!
I was fortunate enough to grow up with a few Danes as a kid and fell in love! We've now been breeding these wonderful dogs for almost 10 years and we are still amazed at how happy and loyal they are! Our experiences have encouraged us to share this wonderful breed with others and to educate new owners on how Great Danes are unlike any other dog!
call us to talk more @ 740-856-7119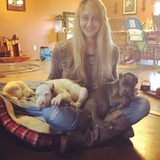 Before becoming a now stay at home mom, I was a veterinary assistant for 10 years. Because of this, I am able to give my pets every medical advantage possible! We do not operate a puppy mill, so we have a bond with each of our pets. Our dogs live inside with us and that is where their puppies are raised too. Puppies are socialized from the time they are born using ENS and daily snuggles! They are raised with Rules of 7, started on crate training and much more before they ever go to their new homes. We do all of this because we aren't just a breeder, we love these dogs. We want to make sure that the puppies we raise will go to wonderful homes and grow into well rounded dogs that you can be proud of. Our goal is to raise healthy, happy puppies that new owners can feel confident in purchasing and raising as part of the family. The best feeling I get from being a breeder, is when a family feels complete because of one of our puppies. We want you to be as proud of our dogs as we are!
Unlike many breeders, we are here for you even after you purchase your new puppy.
We are happy to answer any questions you may encounter about your new Great Dane addition including everything from diet and nutrition to training and obedience.
We offer a 2 year health guarantee on all puppies born at our home. We guarantee that your puppy will be free of congenital heart defects, hip/elbow dysplasia, and thyroid disease for the first TWO years of life. Any puppy purchased on LIMITED/PET registration will be required to sign a spay/neuter contract, promising to have the puppy altered by 18 months of age.
PLEASE ASK US FOR REFERENCES!!! WE HAVE SEVERAL!!!!